Despite having to be a guest before Leicester, Liverpool took the initiative and created many scoring opportunities. After many broken balls, The Reds got what they needed, a goal to break the balance.
In the 33rd minute, starting from the long ball of goalkeeper Alisson Becker, Salah picked up the ball and passed it in as if to give Curtis Jones a neat finish in the penalty area to net Leicester to open the score.
Just 3 minutes later, the gap was doubled for Liverpool. Still two names Salah – Jones imprinted on the shoe. This time, the 22-man young midfielder turned around and shot the ball dangerously into the far corner to knock out goalkeeper Daniel Iversen. 2-0 is also the score of the first 45 minutes.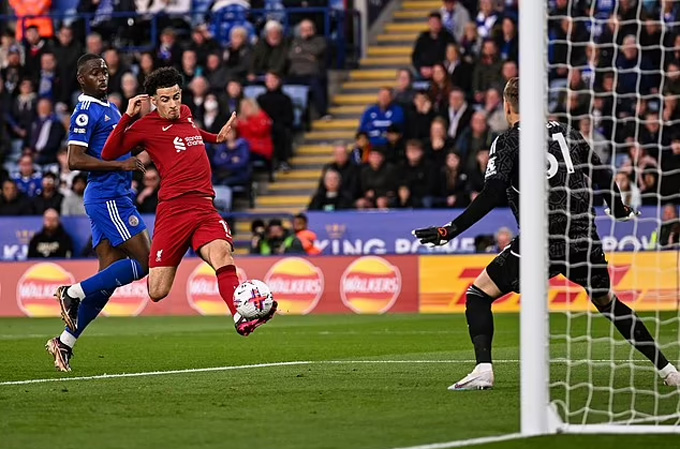 Jones scored twice this match
In the second half, the pace of the game was pushed up when Leicester tried to overflow in search of a goal. In the 53rd minute, Alisson saved Liverpool after fixing Harvey Barnes' heart at the edge of the penalty area. In the following period, many opportunities were created by both teams, but only Liverpool took advantage of it successfully.
In the 77th minute, from a free kick at a distance of about 22 meters, Salah raised the ball for right-back Alexander-Arnold to launch a beautiful melancholy kick into the net of Leicester to seal a jubilant 3-0 victory for Liverpool.
This is the 7th consecutive victory of the Port City team in the Premier League this season, helping them persistently chase Newcastle and Man United. Currently, Liverpool are ranked 5th with 65 points, 1 point behind the Top 4 group, but 1 more game. With Liverpool, there is still water and they have never given up hope of winning tickets to the Champions League next season.
In the 37th round of the Premier League, Liverpool will face Aston Villa at Anfield, at 21:00 on May 20.
Leicester vs Liverpool Leicester squad: Iversen; Pereira (Thomas 67′), Faes, Evans (Souttar 89), Castagne; Soumare, Ndidi (Daka 61); Maddison, Tielemans, Barnes (Tete 61); Vardy.Liverpool: Alisson; Alexander-Arnold, Konate, Van Dijk, Robertson; Henderson (Milner 74), Fabinho, Jones (Carvalho 84); Salah (Elliott 88), Gakpo, Diaz (Jota 74).