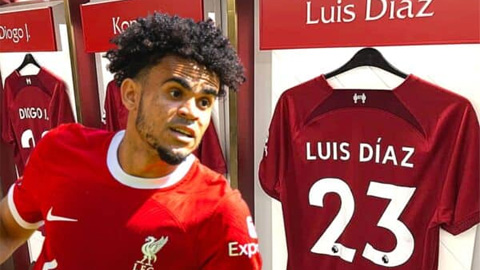 Luis Diaz opted to change his shirt number ahead of the new season, as Liverpool confirmed details to fans who bought the Colombian's No 23 shirt.
Since Diaz arrived from Porto in early 2022, the Colombia international has kept the number 23 shirt worn by former players such as Jamie Carragher and Xherdan Shaqiri. But with the departures of James Milner, Naby Keita and Roberto Firmino this summer, a series of iconic numbers have opened up.
Liverpool have now announced Diaz will wear the number 7 shirt from next season, the number he also wears for the national team while playing internationally. Luis Diaz also previously wore the number 7 shirt in Porto.
Before Milner, the number 7 was worn by the likes of Luis Suarez, Steve McManaman and Harry Kewell in the Premier League era. However, the most famous person to ever wear the number 7 shirt is Kenny Dalglish – the legend wore it for 10 successful seasons in the 1970s and 1980s, taking over Kevin Keegan's number 7 shirt as Liverpool's number 7 shirt. become an icon.
Diaz's decision to swap shirts comes after the new Liverpool 2023/24 home shirt was released and the winger will personally refund those who purchased his number 23 shirt.
The current number 8 and number 9 jerseys are still available this summer following the departures of Keita and Firrmino. At the moment there is some speculation about whether Darwin Nunez will take on the number 9.