A man who was never a cat person, began volunteering for an animal rescue next door. Things quickly changed.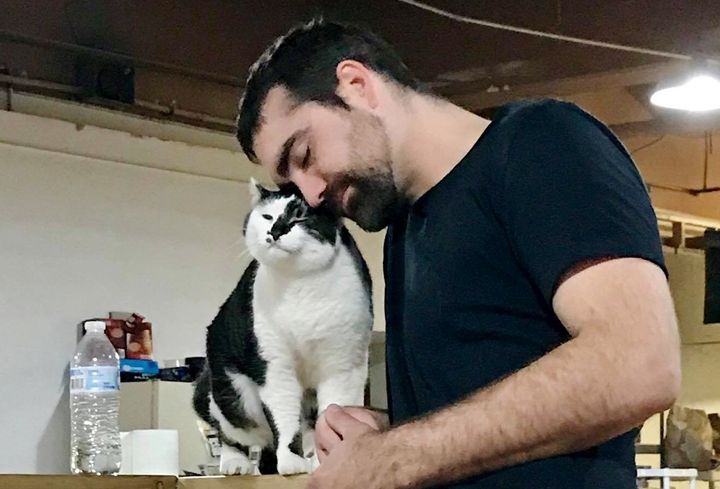 Safe Haven Pet Sanctuary
Ryan Keenan, the owner of The Eclectic Market, never thought he would be snuggling with a full couch of cats until a couple of years ago, a rescue group, Safe Haven Pet Sanctuary, became his next door neighbor.
He saw the amount of work put into caring for 30 cats and decided to offer a helping hand. Not only did he volunteer to look after the kitties at night, but also he fostered a few at his shop. Over time, one of the cats he cared for, claimed him as her forever human.
"He wasn't a cat guy when we moved in. He knew so little about cats that he asked me if cats ever changed colors like chameleons," Safe Haven said.
Since then, Ryan has become the kitties' biggest advocate. Whenever he's not working at his shop, he's spending time helping the cats and the sanctuary. His passion for caring for animals especially those in need has garnered him the title as their Animal Care Manager.
Every time he walks into Safe Haven, the feline residents will make their way to him for their daily snuggles, lovin' and lap time.
Early last year, a cat named Button came to the sanctuary when his long-term owner could no longer care for him. "He waited around at home for a long time for his dad to come home from the hospital, with a caretaker stopping in every so often," the rescue said.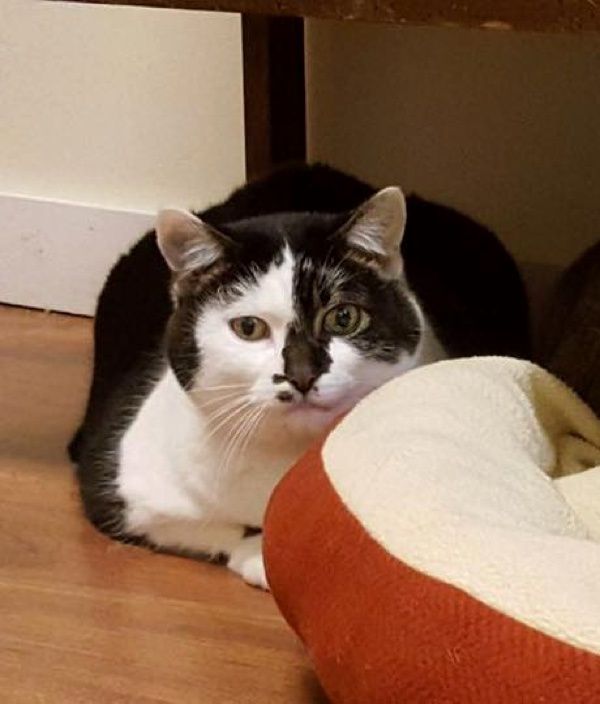 Eventually, the family brought Button to Safe Haven as his owner had moved into an assisted living facility. He hadn't been around people for so long that he had become fearful of them.
Ryan and the Safe Haven team saw right through his wary and timid exterior and made it their mission to help Button feel loved again. With time, patience and a lot of TLC, Button finally came around and returned to being the sweet, sassy cat that they know today.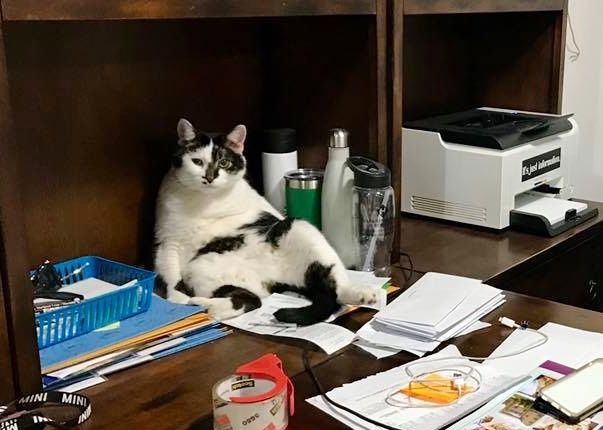 Whenever Button sees Ryan, he is eager to greet him with head snuggles and purrs.
Knowing Button loves to sniff fresh air, Ryan will take him outside for a quick stroll through the parking lot. The kitty is so happy whenever they get to go on an adventure together — it is Button's favorite pastime, and nothing makes him happier than cuddling with his best friend.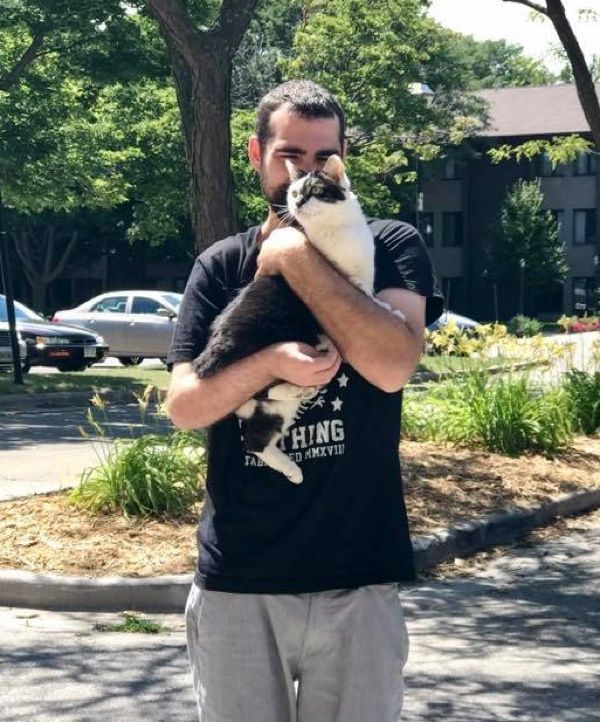 Ryan often invites Button to his shop to hang out, and the smart kitty will try to "help" and be his perfect little assistant.
At 11 years old, Button is still a kitten at heart. He loves every moment he spends with his human friends especially Ryan.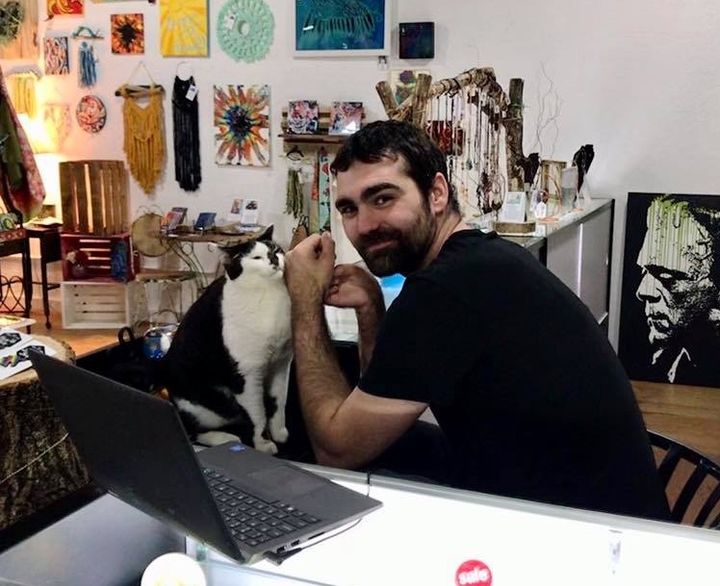 "He's got an attitude, but he's really a big softy when he gets to know you. He will follow you around yelling at you all day long," Safe Haven said.
Button loves to be petted and is king of the back room food storage shelf. He likes to nap next to Ryan and sometimes brings him "gifts" he finds in the building.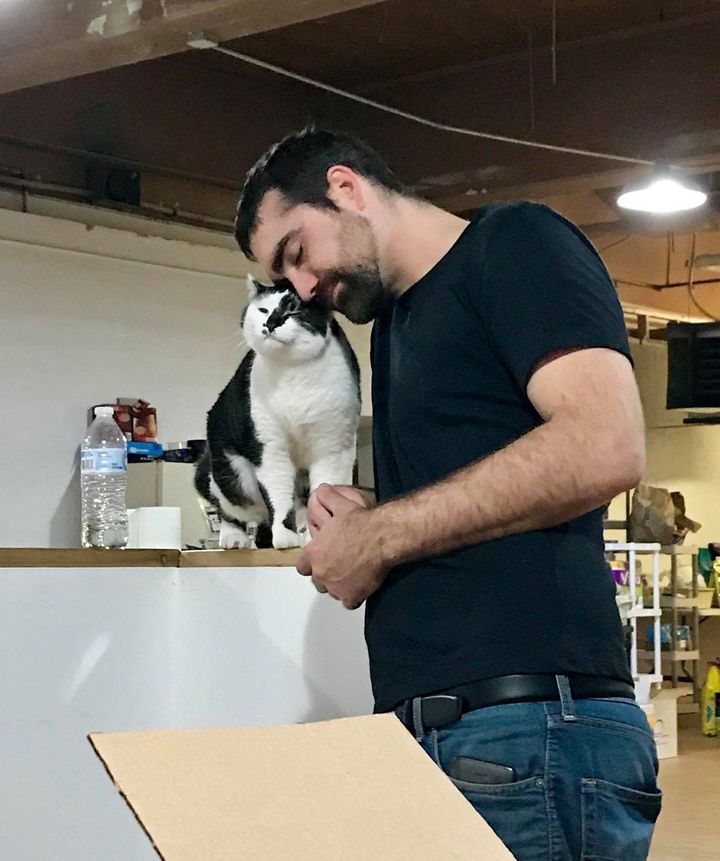 When Button first arrived at the rescue, he wore a tough facade and was very sheltered.
As he got to know Ryan, he opened up to him and became his cuddly teddy bear.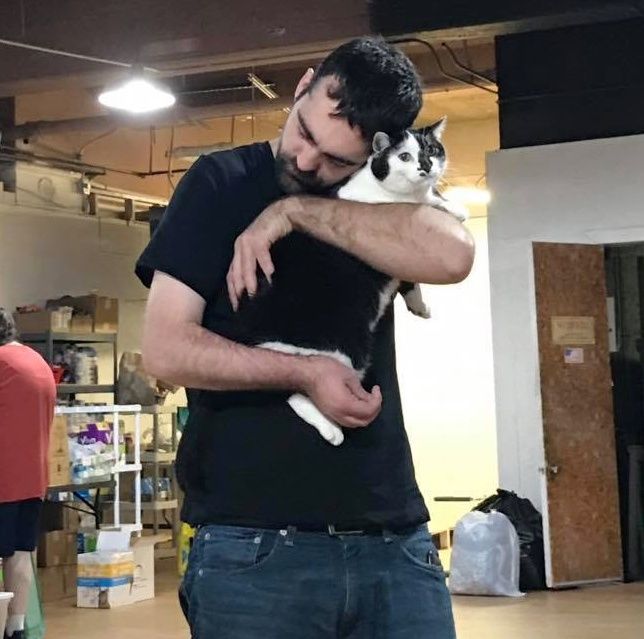 "We are so lucky to have Ryan as our animal care manager! We ended up with an awesome neighbor."